Rubber Gym Flooring Tile - 15MM
SERIOUS QUALITY
SERIOUS VALUE
DURABLE, PRECISE, SAFE, SOUND ABSORBENT, ANTI-FATIGUE, & LOW MAINTENANCE.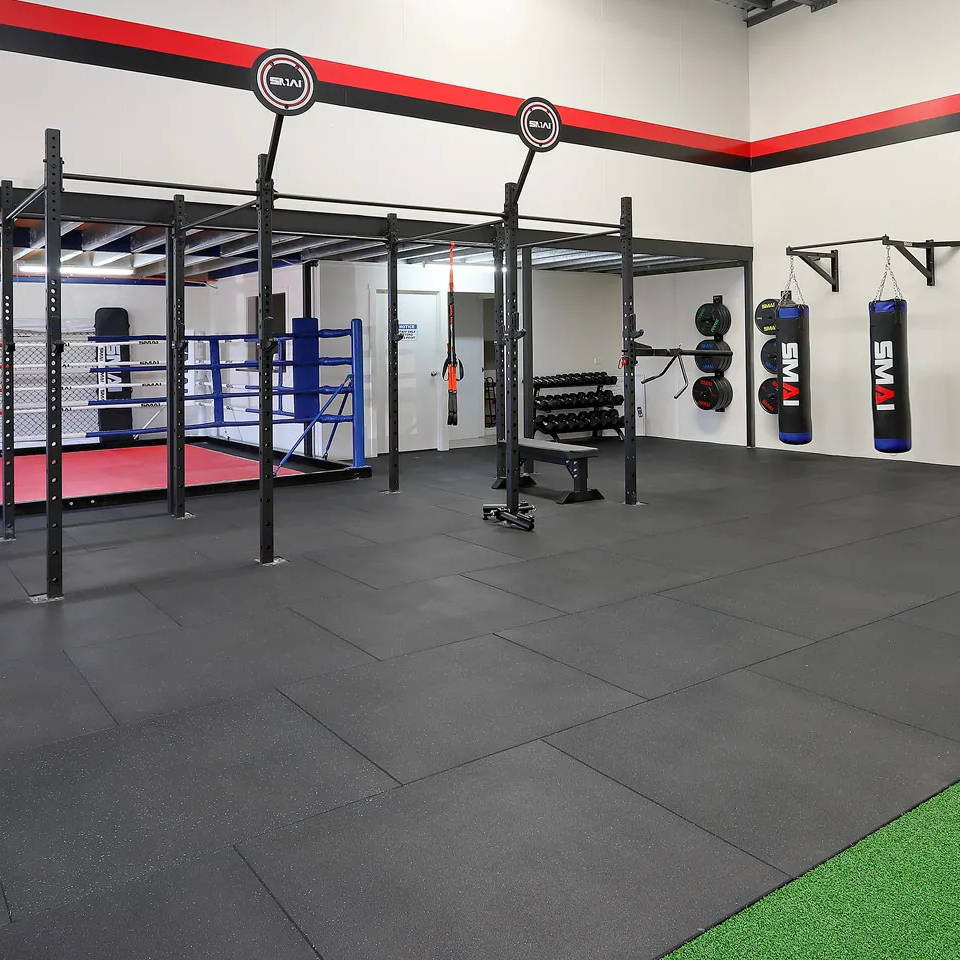 OVERVIEW
The SMAI Rubber Gym Tile is one of the most popular mats being used in gym and fitness facilities across the country. Featuring anti-static, anti-slip, acoustically insulated and shock absorbent properties, the rubber tile is a must for anyone serious about quality and value for money.
This impact absorbing rubber gym flooring is a quality product that will withstand heavy traffic in indoor and outdoor areas, exposure to sweat and the dropping of heavy items without damaging the surface. Aside from being an ideal flooring solution for the gym and fitness industry, these mats have an anti-fatigue property which makes them ideal for many other applications.
WITH A BEVELLED EDGE, NON-SLIP SURFACE, 930KG/CBM GYM FLOOR DENSITY AND CONSTRUCTED FROM RECYCLED RUBBER TYRES WITH A BLUE EPDM FLECK IT'S NOT HARD TO SEE WHY THIS MAT IS UNIVERSALLY LOVED.
| | |
| --- | --- |
| Size | 1000 x 1000mm |
| Thickness | 15mm |
| Density | 930kg/cbm |
| Weight | 14kg |
| Edging | Bevelled |
| Finish | Non-Slip Rubber |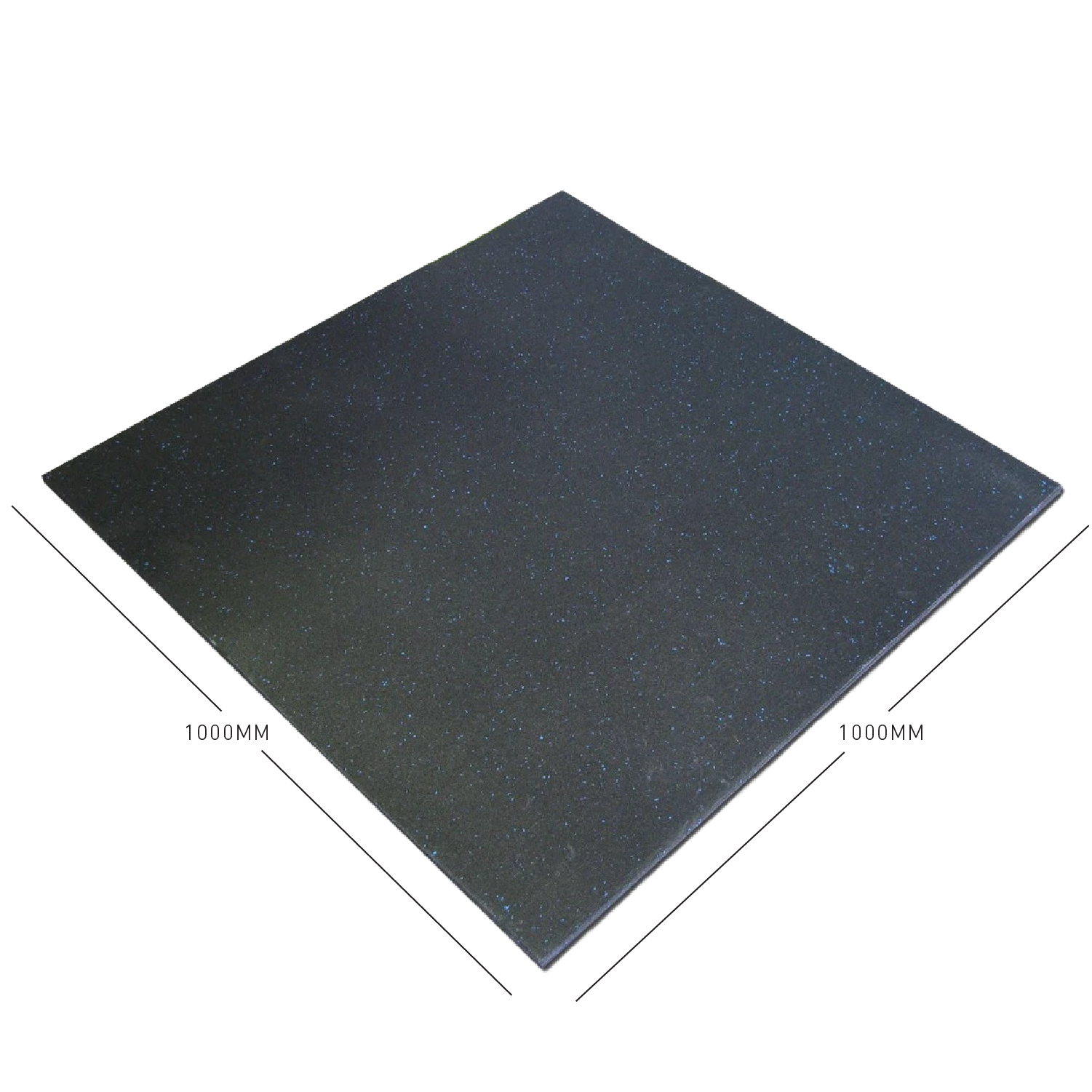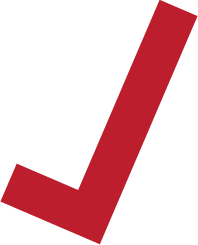 MADE WITH RECYCLED RUBBER FROM CAR TYRES AND REAL EPDM FLECK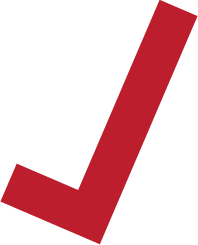 NON-TOXIC BINDING
WITH NO FUMES OR ODOUR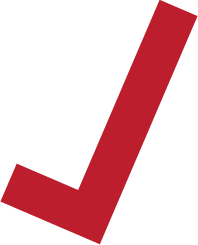 SEALED WITH HIGHEST QUALITY EUROPEAN BINDER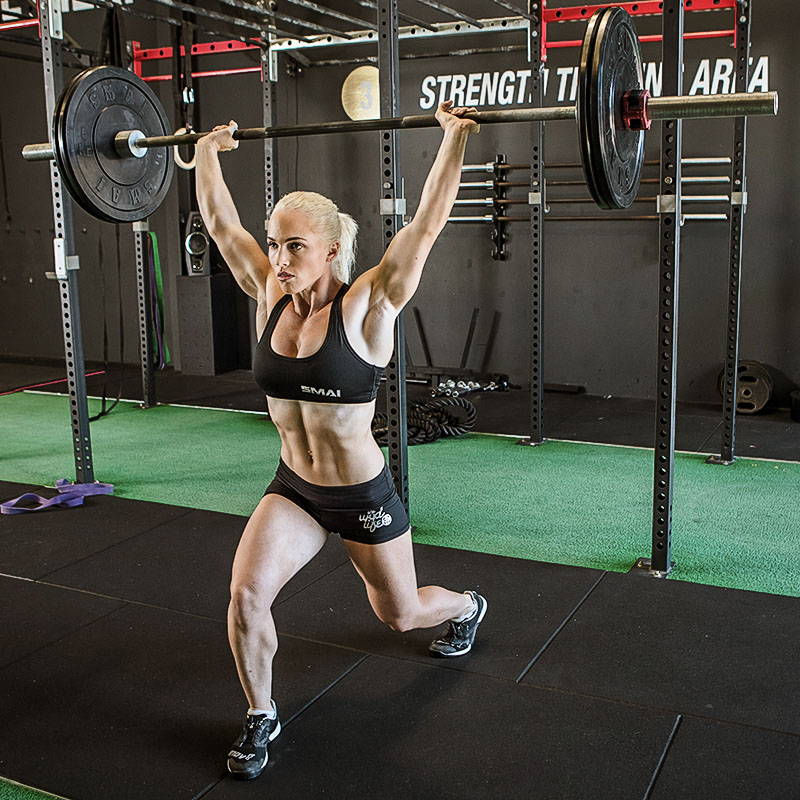 JESS COUGHLAN'S REVIEW
WE HAVE USED SMAI RUBBER FLOORING TILES FOR YEARS FOR OUR AFFILIATES AND HOME GYM - THE MATTING IS EXTREMELY DURABLE AND STANDS THE TEST OF TIME. HIGHLY RECOMMENDED!
DURABLE
Constructed to last in the toughest of environments, these rubber gym tiles are made for the busiest gyms and workout areas to withstand the daily use you will throw at them. They can be installed in fitness facilities and gyms across the country. F45, the fastest growing fitness franchise, has been using these tiles for over 5 years with no issues.
PRECISE
SMAI tiles are made to exact specifications meaning a perfect application in any space. Unlike other brands these tiles won't give you gaps or spaces between the tiles which ensures safety and a professional finish.
SAFE
Safety should always be the top priority for any application. The SMAI tiles are bound with a non-toxic MDI binder for your safety and tested and approved to meet the Building Code of Australia requirements. This means you are compliant and can install these mats in commercial spaces.
SOUND ABSORBENT
With acoustic insulation, these tiles are the ideal addition to any space. Commercial gyms and high traffic areas benefit to create a quieter environment.
ANTI-FATIGUE
Through the use of high quality rubbers and compounds, the quality of the gym tiles won't falter. This offers maximum comfort under-foot and ensures a safe environment.
LOW MAINTENANCE
The tiles require little maintenance, simply clean mats with a vacuum cleaner and finish with warm water using a PH-neutral detergent solution.
SMAI Rubber Gym Tiles are embossed with the SMAI logo on the underside, so you can guarantee they are 100% authentic.
Whilst the rubber tiles can be used outdoors, we recommend assessing the area of intended use or speak with a landscaper or builder regarding water drainage as water may pool in the area.
Rubber tiles are sent on a pallet. You must be available to sign and offload delivery Monday-Friday 9am-5pm.
Weight: 14kg
Size: 1m x 1m
Composition: Recycled Rubber (from car tyres) and 7% EPDM Fleck
Fitting: Tile
Binding: Uses a non-toxic binding or vulcanisation process that would altertantively lead to trong odours that are less than ideal for most spaces)
Colour: Black with Blue EPDM Fleck
Edges: bevelled
Density: 930kg/cbm
Finish: textured (non-slip)
Warranty: 12 months

ISO 9239-1:2010 Reaction to Fire test for flooring result: HF-30/kw/m2: 2.2 Smoke: 720%/min

NFPA 253-2015 Reaction to fire test for flooring (USA) result: W/cm2" 0.22 S-0.01 V-5.26

EN 13501-1:2007+A1:2009 Fire classification Building elements Fire behaviour: Efl
SIZE
✓ Perfectly 1000mm x 1000mm square
SIZE
✗ Variants in sizes, uneven angled cuts meaning more wastage during installation
GYM FLOOR MATERIAL
✓ Recycled rubber tyres
✓ Real EPDM rubber specs
✓ Sealed with highest quality European Polyurethane Binder
MATERIAL
✗ Cheaper production may mean tyres are not recycled properly and contain hazardous metal materials
✗ Sealed with cheap, low quality binder
 
SAFETY
✓ Non-toxic MDI binding solution in the rubber, reduces smoke and flames
✓ No toxic fumes or odour
 
SAFETY
✗ Toxic carcinogen binding solution in the rubber, which can lead to cancer with exposure
✗ Toxic fumes and bad odour
 
CERTIFICATIONS
✓ SGS ISO 9239-1:2010 Reaction to fire tests for flooring
CERTIFICATIONS
✗ None or unofficial forged documents
GYM FLOORING DENSITY
Fine, even, tightly compressed rubber means:
✓ Even impact absorption
✓ Flat surface
✓ Strong grip to floor beneath
✓ Minimal or no variance in temperature variances
DENSITY
Uneven rubber particles and bigger air pockets means:
✗ Impact surface may falter
✗ Irregular surface
✗ Air pockets likely to contract or expand with temperature variances, causing gaps between mats and increased likelihood of cracks and breakages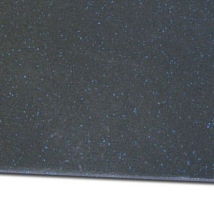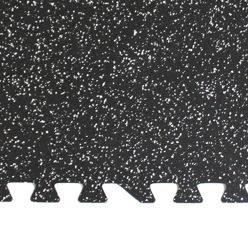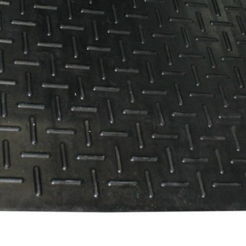 ✓ RECYCLED RUBBER FROM CAR TYRES

✓ REAL EPDM FLECK, SEALED WITH HIGHEST QUALITY EUROPEAN POLYURETHANE BINDER
✓ NON TOXIC, NO SMELL
✓ NON-TOXIC MDI BINDING SOLUTION IN THE RUBBER REDUCES SMOKE AND FLAMES
✓ RECYCLED RUBBER FROM CAR TYRES

✓ REAL EPDM FLECK, SEALED WITH HIGHEST QUALITY EUROPEAN POLYURETHANE BINDER
✓ NON TOXIC, NO SMELL
✓ NON-TOXIC MDI BINDING SOLUTION IN THE RUBBER REDUCES SMOKE AND FLAMES
✓ FILTERED RECYCLED RUBBER (VULCANISED)
✓ NON TOXIC
✗ NEW MAT SMELL MAY LINGER FOR FIRST FEW MONTHS
 
SGS ISO 9239-1:2010 REACTION TO FIRE TESTS FOR FLOORING
AS 4586-2013 SLIP CHECK- WET PENDULUM RESULT: SRV: 22 CLASS: P1
ISO 9239-1:2010 REACTION TO FIRE TEST FOR FLOORING RESULT: HF-30/KW/M2: 2.2 SMOKE: 720%/MIN
NFPA 253-2015 REACTION TO FIRE TEST FOR FLOORING (USA) RESULT: W/CM2" 0.22 S-0.01 V-5.26
EN 13501-1:2007+A1:2009 FIRE CLASSIFICATION BUILDING ELEMENTS FIRE BEHAVIOUR: EFL
SGS ISO 9239-1:2010 REACTION TO FIRE TESTS FOR FLOORING
When choosing your rubber flooring, you will need to take into consideration your individual circumstances and environment, including the intended to use the mats, your edging preference, and any council certification requirements.
You may people prefer the interlocking jigsaw for a complete finish, or use the straight edges to line up clients in group classes, or go for the non-porous Stall Mats if you use large amounts of chalk (Crossfit, powerlifting).
Ideal for: Indoor use, Commercial gyms and fitness centres, Crossfit Gyms, Weight training rooms, Hotel fitness centres and gyms, Powerlifting facilities, Cardio rooms, Home Garage gyms, Rock Climbing centres + more